Yes! I am indeed talking about the great Balu Mahendra! He can be termed a complete man of cinema in it's truest form. Starting out a cinematographer, he has dabbled in editing, screenwriting, direction and even acting – earning him the praise of being an auteur from the lovers of cinema across our country. He is considered to be an institution unto himself, by the people from within the industry. Many top contemporary directors of Kollywood hail from his school of direction. Born Balanathan Benjamin Mahendran in a Sri Lankan Tamil household in Batticaloa, the fascination for the art of photography germinated in Balu Mahendra's mind at a very young age after receiving a camera as a gift from his father. His mind turned towards cinema after witnessing the shooting of one of the best movies of all time, the World War II movie – The Bridge on the River Kwai directed by David Lean, while on a school trip at the age of 13. To pursue his interest in cinema, Balu Mahendra on completing his Science degree, applied for the Film and Television Institute of India, Pune. Having been pushed to take up a course in Cinematography, due to a lack of vacancies in other courses, Balu Mahendra passed out with a Gold Medal.
Career Takes off!
Balu Mahendra's movie for his college diploma impressed Malayalam director Ramu Kariat so much, that he offered him the chance to crank the camera for his movie Nellu, in 1971. However, the release of this movie was affected and it finally saw the light of day only in 1974. Even before Nellu's release, Balu Mahendra handled the cinematography for two other movies with the first released being Panimudakku. His prowess behind the camera became well known and he was being approached by directors from different parts of the country to handle their project's cinematography. Despite being a Tamilian, the first time he got to work in a Tamil movie was about seven years down his career that he got to work in a Tamil project – his first being the 1978 Mahendran directorial Mullum Malarum. After a number of movies as a cinematographer, Balu Mahendra turned his focus to directing and also editing. The first movie he directed was the 1977 Kannada movie Kokila, which starred Kamal Haasan, Roja Ramani and Mohan, with Shoba essaying the title role. The movie was a huge hit, and it also became the first Kannada movie to run for over 100 days in Chennai. He followed this with the 1979 movie Azhiyadha Kolangal. These two movies were followed by two of the biggest hits of Balu Mahendra's career and also in Kollywood, till date – Moodu Pani starring Prathap Pothen and Shobha; and Moondram Pirai starring Kamal Haasan. Overall, Balu Mahendra directed 22 movies in Tamil, Telugu, Kannada, Malayalam and Hindi, over a period of 36 years. He cranked the camera for 29 movies apart from his directorials.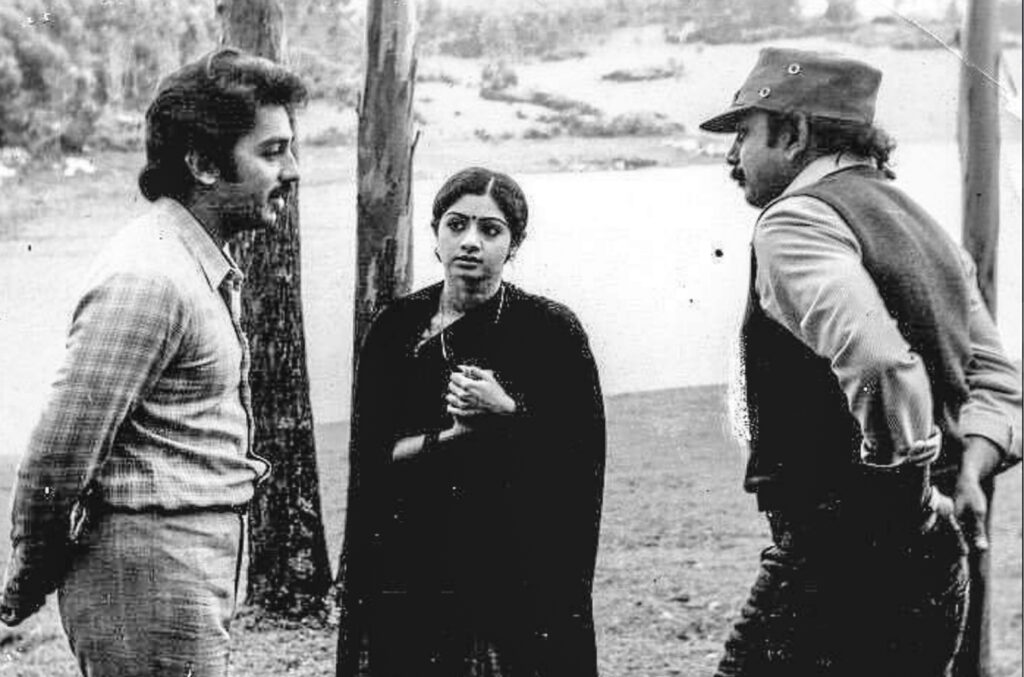 Awards and Recognitions
In his lifetime, Balu Mahendra has won the National Award a staggering five times. His first National Award came in 1974 for Best Cinematography (Colour) for the movie Nellu. This was followed by an award for Best Cinematography (Black & White) for his directorial debut – Kokila, in 1977. His next National Award was again for Best Cinematography (Colour) for the 1982 movie Moondram Pirai. His 1987 directorial, the critically acclaimed Veedu, won the National Award for Best Feature Film in Tamil. The 1989 movie Sandhya Raagam won the National Film Award for Best Movie on Family Welfare, and the 1991 movie Vanna Vanna Pookkal won the Best Feature Film Award at the National Awards. Apart from these, he also has several State Film Awards, Nandi Awards and Filmfare Awards.
A revolutionary
Balu Mahendra is considered to have been instrumental in bringing about a new wave of cinema in Tamil. His works have been depictions of stark reality, and the movie Moondram Pirai is considered to be his way of depicting the pain he felt when his first wife – the Malayalam actress Shobha was separated from him after committing suicide. The 1988 movie Veedu was based on the difficulties faced by a middle-class family, to construct an own house. Interestingly, the movie was said to be a tribute to his mother, whose struggle he saw while she constructed a house for their family when he was just 8 years old. Many of the actors who played parts in his movies, went on to win a lot of accolades and awards for the performances. He was not just a King, but a King-maker too…
An institution…
The man was not just a wizard who wove magic with the lens or with his stories, but an institution from which many stars and technicians have evolved. It is said that many legends like Kamal Haasan, Mani Ratnam, Bharathi Raja, Bala, Ameer, Selvaraghavan, Ram, Vetri Maaran have drawn inspiration from. Many leading cinematographers of today, like Santosh Sivan, Ravi K. Chandran, KV Anand and Natarajan Subramaniam, consider Balu Mahendra to be their mentor.
Balu Mahendra also ran an institute to train actors and technicians in the art of cinema, and was considered to be very approachable by anybody who wanted to discuss any aspects of the art.
The last hurrah…
The legend's last contribution to cinema was the 2013 movie Thalaimuraigal. In his direction, he also played the role of Subbu, an old man in love with his traditions and the language – Tamil. The movie was a touching tale of the relationship between a grandfather and his grandson and the way the generation gap was bridged. Produced by M. Sasikumar, the movie also has claim to an uniqueness. It was shot with the Canon 5D DSLR – a still camera. This made the movie the first film to be shot in digital format, using a still camera. Apart from directing and acting in this movie, Balu Mahendra also handled the editing and photography for this project.
The climax…
It looks like the gods decided that they wanted a talented man of cinema amongst them… On 13th February, Balu Mahendra suffered a cardiac arrest and was admitted to a leading hospital in Chennai. However, after about six hours, he breathed his last. This left the whole of Kollywood shocked. Artists, technicians and movie lovers across the country mourned the demise of the legend and Balu Mahendra's body was cremated the following day. The Tamil cine industry decided to stop all work for a day, as their mark of respect for the legend.
Though he is no more, the students of cinema shall always look up to his works, and Balu Mahendra's epics on celluloid shall always be celebrated.

– MKV
---
You may also like